New Hope greeters Sis. Carla Frances & Elder Westmoreland
New Hope greeters are standing by to welcome you!
Minister Anthony Drummond
Preaching God's word weekly
Sis. Theresa Drummond
Sharing God's word through song.
Elder Janet Kenner
Praying for our church family and the world
New Hope in Prayer
We're praying for you and our Community!
New Hope Community Outreach
Stoop Life 4 Christ Youth Community Outreach
Stoop Life 4 Christ Creation Museum Trip
Community Guest Day Manuel & Denise Avitia
Ministering to the Oak Park Community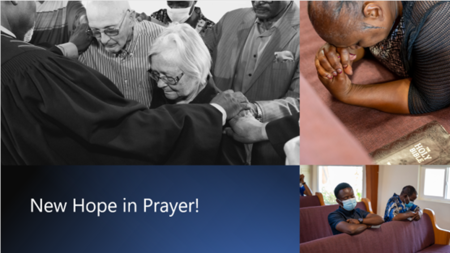 There is power in prayer, and we want to pray for you! If you wish to share your request with our prayer chain via email, or publish your request on our site, please check the options listed below. Although we rarely do so, we reserve the right to edit requests. God bless! Our prayers are with you.